Special: Wedding Photos: $950 Limited Photojournalism Package. Only 10 spots available.
Check if Your Wedding Date is Open:


Frequently Asked Questions
There are a ton of questions that your should ask your wedding photographer:
What photography styles do you specialize in?
How many photos will you take? How many photos will you give us?
When will you deliver the finished photos to us?
Do you have a professional contract for us to sign?
Will we get the negatives?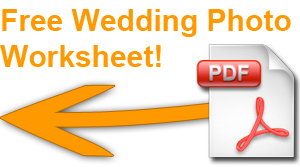 Fill out this form, and we'll give you a free worksheet called "Top 21 Questions You Should Ask Your Wedding Photographer." This sheet gives you all the wedding photo answers you need.
Reviews From Brides:
Book 3 hours or 10, you always get:
More:

"Chris and Lindsey did an amazing job with our wedding. I could tell they really wanted to make our day special… Amazing job."
– Jenifer Erdmann

"We, our families, and friends absolutely love the photos because of their ability to capture the details and the candid shots. "– Yen Le
Two Wedding Photographers
A disk with your wedding images, including copyright
A DVD slideshow with your top photos
Wedding album assistance
Pro-grade creative/beauty photoshopping of all the photos
Website gallery with free photo downloads for your friends and family
Lifetime back-up storage of your photos
1 hour bonus engagement photography session
---
"We don't just take photos – we create a memory that wraps its arms around you."
---
| Our Wedding Photos | Prices | FAQ |